ABOUT RACHEL

Rachel is from a farming and equestrian background. She has always had a keen interest in sports science and the mechanisms of the human body and decided to train as a McTimoney Chiropracter and Sports and Remedial Massage therapist.

After graduating, Rachel worked as a graduate practitioner at the College for a number of years and alongside this she started building a client base. Currently Rachel practises from a treatment room at her parent's farm near Wantage. Rachel is also involved in the day to day running of the family farm and equestrian business.

About her Treatments:

Rachel combines McTimoney adjustments and remedial massage techniques to loosen and mobilise problem areas and address imbalances at muscular, ligamental and joint levels.

The treatment aims are to make the patient feel more comfy and to correct the reason why the patient is in pain. In a lot of cases the pain is due to a build up of imbalances within the muscular and skeletal system, often caused by the way we use our strongest side to do something, or walking incorrectly due to arthritis or following an operation. In some cases x-rays and MRI scans are required to diagnose deeper problems and help streamline treatment.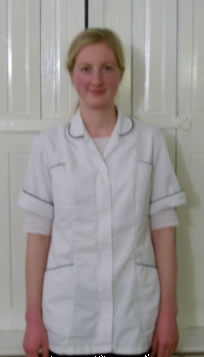 Treatment can help:
Loosen neck, shoulders and lower back
Improve posture
Loosen adhesions in hard working muscles
Improve symmetry
Assist injury rehabilitation
During and after pregnancy - your body had to adapt to the increased load of carrying a baby for 9 months and then the birth!
Identify imbalances in muscles, joints, movement patterns and weight distribution
Prevention of future problems
Children and young people - early treatment is the best so that young people grow up strong and with minimal imbalances
Athletes - you will be using specific muscles for your sport, these need to be kept in optimum condition and your bodies need to function smoothly
Physical jobs - you need your body to function at its best so it is vital that you are looked after