WHAT THE FIRST VISIT ENTAILS
Normally the first visit lasts between 60 to 90 minutes


Details are taken of the patient's current condition and symptoms. The patient is also asked about any other medical conditions that they currently have or have had in the past because these may be relevant.


Next, the patient will have a thorough physical examination. The area(s) causing the problems will be assessed followed by a general observation of the whole body.


Postural assessment.


The patient will normally have to remove some items of clothing but this is not compulsory. A medical gown is always provided.


Treatment recommendations discussed with client


Thorough manual treatment with a combination of McTimoney adjustments and remedial massage techniques.


Children must be accompanied by their parent or guardian at all times.


Patients can bring any relevant x-rays, scan results or reports that they may already have as they will be useful in assessing their condition.


One off treatment and advice sessions/MOTs available


FREE 20 minute consultation and discussion of treatment at the clinic at your request.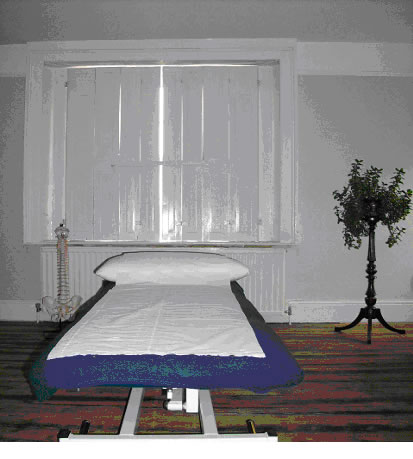 THE TREATMENT ROOM AT FARNBOROUGH
Daytime, Evening and Emergency appointments available - Tel: 07879 475557